Title:
Planner Perfect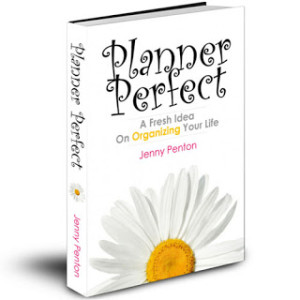 Author:
Jenny Penton
Publication Date:
May 17, 2012
Price:
$4.99
Place Acquired:
Ultimate Homemaking eBook Bundle
About the author: Jenny is a homeschooling mom of 8 who, while growing up, watched her mother's diligent use of a planner. Her mom's use of a planner to manage her home and plan her life's goals and dreams inspired Jenny to create a system that worked for her own life to help her manage her home and life. Jenny's passion is "to inspire women to live with purpose and intent; switching focus from task slave to goal aficionado."
Describe: The first few chapters of her book are not about how to create a system for yourself but rather about recognizing the need you have for a system in your life. She explains about setting up a special place for yourself to plan and dream and then goes on to explain how God put those plans and dreams in to your heart to pursue. Then comes the more technical section of the book dedicated to how to use loose leaf to capture your dreams, track your goals, and plan your projects. She gives tips on how to plan parties, vacations, how to plan the perfect Christmas, and more. The last portion of her book is dedicated to examples of how to set up the different pages to keep your life in check as well as how to use a journal and meal planner.
Analyze: As I read this book several months ago and have since set up my own home management binder, I did not expect to glean a lot of new information. The reason I chose to read this again was because of a couple of posts I read on Jenny's blog about how she is unschooling her children. I could relate to her as a fellow unschooling mom who enjoys having a plan and a bit more structure to the home than some other unschooling blogs I have come across. After gaining some insight about Jenny's life and family, I was able to take fresh eyes to this book. I took a page and a half of notes. That's a lot considering the book is 48 pages long (according to my ereader) and can easily be read in one sitting (assuming you don't have little ones interrupting, which I did so it took me a couple of evenings). It was so full of information and ideas that I think I could read it a third time and still come away learning something.
Evaluate:
It's about more than staying organized. It's also about being refreshed and inspired every day. It is about allowing yourself to recognize and grasp those dreams that God placed in you and then setting a plan in motion to accomplish them.
"Once you are a true "Planner Perfect Gal," you will soar!"
There are a lot of methods out there that will tell you what to do, but not many help you figure out why you're doing it in the first place. Anyone who knows me likely knows how much
I value a slower-paced life
to help you stay on track with your priorities and Jenny's book has some wonderful explanations of why and how to accomplish this. There are so many different books, articles, and blogs out there on the "how" and yet so few truly help you figure out your "why." Planner Perfect encompassed the whole journey from telling you why a plan is important, to helping you figure out the direction your plan should take, to giving you the tools you need to get there.
Recommendation: While I haven't adopted the complete Planner Perfect system, I have made use of many of the techniques and ideas in the book. I think there is something special about giving yourself permission to dream and plan and put it all on paper. Plus, since I'm rather frugal, I appreciate the fact that she encourages the use of loose leaf (especially considering I just bought several packages for 15 cents each at Walmart a few weeks ago during their "back to school" sale). Organizing tasks is easy and any old planner system can do that. If you have tried other systems and became bored or distracted, or even if you have never tried a planner/binder system at all, check out this book and give yourself a kick start by starting up your dream engine again. Once you have your motivation and mission, you'll find that the tasks start to fall into place.
I just bought your planner Friday and am excitedly waiting to receive it!! I wanted to send you an encouraging thank you and hope you will allow me to also badger you with a question! How can I expect it to come - us post, ups or fed ex and that will give me a guessing point on when it will come also. I truly am excited to get it and use it.
I have to thank you for creating this planner. I, also, have been through many planners over the past 20 years of High School, College, working life and now homeschool mom. All of them! Franklin Covey, Staples, Truly Mom, Fly Lady affliliated . . . . Most recently I even pulled up several options online and hand copied them on paper. Then I 'used' them for several days each. I then settled, settled being the key word, on one of them. I used that planner for 2 years. But used is an over statement. I owned it, it is very pretty! I only used the calendar.
I have a notebook for school, for my time with God, for my dreams, for my home. I get excited over new, crisp white paper and a good pencil. I love to sit and just write my prayers, thoughts, dreams, plans. So are you seeing how your planner just curled my toes!!!
A homeschool website, I don't even know which one, led me to your planner. If I took way too much of yours and my time I could tell you how clear it is that this moment was exactly God's timing in what he is doing in my life right now. But suffice it to say, we know the same God so you can praise Him without the details. I bought your e-book first just so I didn't spend the money AGAIN on another planner. I was floored. You articulated so well what God had already told my husband and I and what we were living. We live a beautiful, slow life dedicated to Him and discipling and educating our daughter while spreading the news of His SON!
So I put together my own perfect planner copy like you described in your book to try it out. WOW! Ella's camp out b-day party this past Friday was a snap. This week prepping for my sister-friend's four kids and foster kiddo coming over (we are repeating the camp out!) has been a snap. You have created exactly what I need and want but didn't know it.
How can I appropriately communicate with words my thanks to your Mom and then to you for being so open to the Lord's leading and taking the time to put all you had to and still do to make this happen and be available for all of us?? Thank you Jenny very much.
If you are anything like me, life works out much better when it is scripted. "Then the LORD answered me and said: 'Write the vision and make it plain on tablets, that he may run who reads it'." (Habakkuk 2:20) I have found this scripture to be of great importance; reminding me to prayerfully write things down rather than trying to remember everything on my own. Because of the importance of staying organized as a stay-at-home homeschooling mother, using planners has been a wonderful and necessary tool in my life.
Does this describe you? If so, then I have the perfect resource to recommend you!
Recently I had the honor to review the eBook, Planner Perfect: A Fresh Idea on Organizing Your Life by Jenny Penton. The Planner Perfect is unlike any planner that I have ever used in the past. It is truly a breath of fresh air that I know will help me out with planning many wonderful thins to come in the new year. It is well written, well organized, keeps God at the center of your planning, and very simple to understand. The beautiful thing about Jenny's eBook is that it teaches you how to become a master life planner, taking control of your own scheduling, rather than being held captive by your schedule.
The story behind the concept is absolutely heartwarming. Jenny has fashioned the planner around the influence of her precious Proverbs 31 mother and the example she modeled while Jenny was growing up. Rather than the typical "task manager" planning, the Planner Perfect is a place where you create your life and can dream up new things birthed in freedom, rather than being tied down by an impossible to-do-list.
One of my favorite things about the Planner Perfect approach to goal setting is the simple fact that it is more about dreaming and living life than about the legalistic aspect of making lists to "check" off. While lists do serve their purpose, the Planner Perfect gives you a whole new understanding about the importance of not overbooking yourself and family. This new "mindset" will help anyone who has been giving their calendar too much control in their life plans.
Some of the many wonderful topics this fabulous eBook covers are:
creating a space of your own

secrets to why we can't stay organized

the role of your calendar

daily and monthly pages

organizing and exploring your strengths and talents

organizing your wardrobe

party planning

vacations

emotional and physical health

keeping your home clean

meal planning

holiday's and special occasions

aspiring for more
I would highly recommend purchasing this eBook if you want a fresh and exciting new start to your life planning. I love the way Jenny teaches us to become the master of our own life planning accompanied with living life, accomplishing goals, creating and accomplishing dreams, and above all else; living a life pleasing to God.
This was the most life-changing book I have ever read after the Bible! It puts me in the mind of the difference between religion and failure (my current system of tasks and lists) and grace (FREEDOM! and success). It set me free to plan according to how I naturally think!! Thank you! Tiffonie
Hi Jenny,
You are my role model. I take my hat off to you because you have lots of kids and a really busy home but you always look so well together on your videos and you still have time for your business and to bake! I sit here in awe. If I want to get some baking done then other things don't get done. You're an inspiration!
I walked through the doorway at 8:20 with the Planner Perfect, Planner for Girls for Amy. It is now 9:10 and Amy is STILL setting her monthly goals, daily plans, and dreaming big. Thank you, thank you, thank you Jenny Penton! ♥
Jenny, I just want to give you a BIG "Thank You" for ALL your encouraging posts!!
I am Confident that I will be able to lead my girls to a wonderful life of planning and living on purpose!!!!!!!